ERDF FUNDS FOR THE KINDERGARTEN OF THE SOPHIE PARISH

Development of a restoration concept according to the Fund's criteria & coordination between the different church bodies. Berlin, 2008
– Client: Evangelische Kirchengemeinde Sophie, Berlin-Mitte
– Subsidy programme: Städtebaulischer Denkmalschutz. Land Berlin / European Regional Development Funds (ERDF)
At the end of the years 2000, Berlin-Mitte had undergo it's first gentrification process but many buildings were still in a poor state. On the facade of certain of them, the impact of the bullets from fights during world war II were still to be seen. Not as memorial, but because they had not been renovated since (see medallion on  home page).
The kindergarten of the parish Sophie is a paradise for kids. The education is based on the Montessori method and given by a team of devoted people. The spaces dedicated to the kindergarten are spacious, bright and comfortable in an historic ensemble. The garden beside the church used as playground, is charming. For these reasons many families want to have their child's first education there.
One morning we found large pieces of stone at the foot of the façade. Luckily no children were there at the time of their fall.
Fences were quickly erected to secure the area but they remained there for months. I realised that steps needed to be taken to restaure the façade.
This was a time of structural problems and hundreds of millions of euros from the European Regional Development Funds were "going back to Brussels" due to lack of co-financing schemes by local stakeholders.
When I contacted the senate's administration to enquire about the economic tools available to restore the facade, the first sentence of the senior civil servant was: « Oh, we have been waiting for your call for a long time! » and within a week an inital amount of € 370,000.- were allocated to the parish.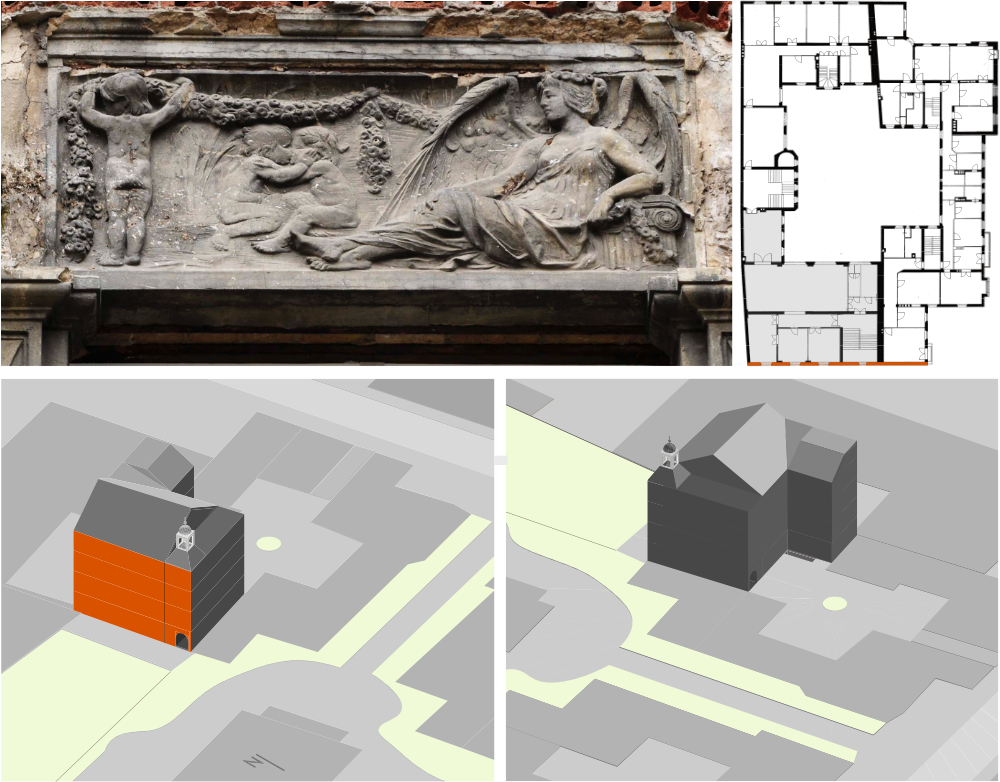 Note, there are two premises to the incoherences in the plan above:
1) after WWII material shortage forced workers to uses anything available to rebuild and adapt the remaining buildings.
2) the architect who redraw the plan did not payed attention to the direction in which the doors open as there was no tradition of planning for renovation in GDR.
In grey the Sophien Kindergarten, in red the façade that could benefit from the ERDF funds. In white housing and retails excluded from the scheme.
Photo –by courtesy of Jürgen Gebhardt, Berlin– detail of the façade with angel.